Field Guide

Select dates in the year of BEAST research


FEBRUARY 2021: Dana Sherwood
<< Last
Next>>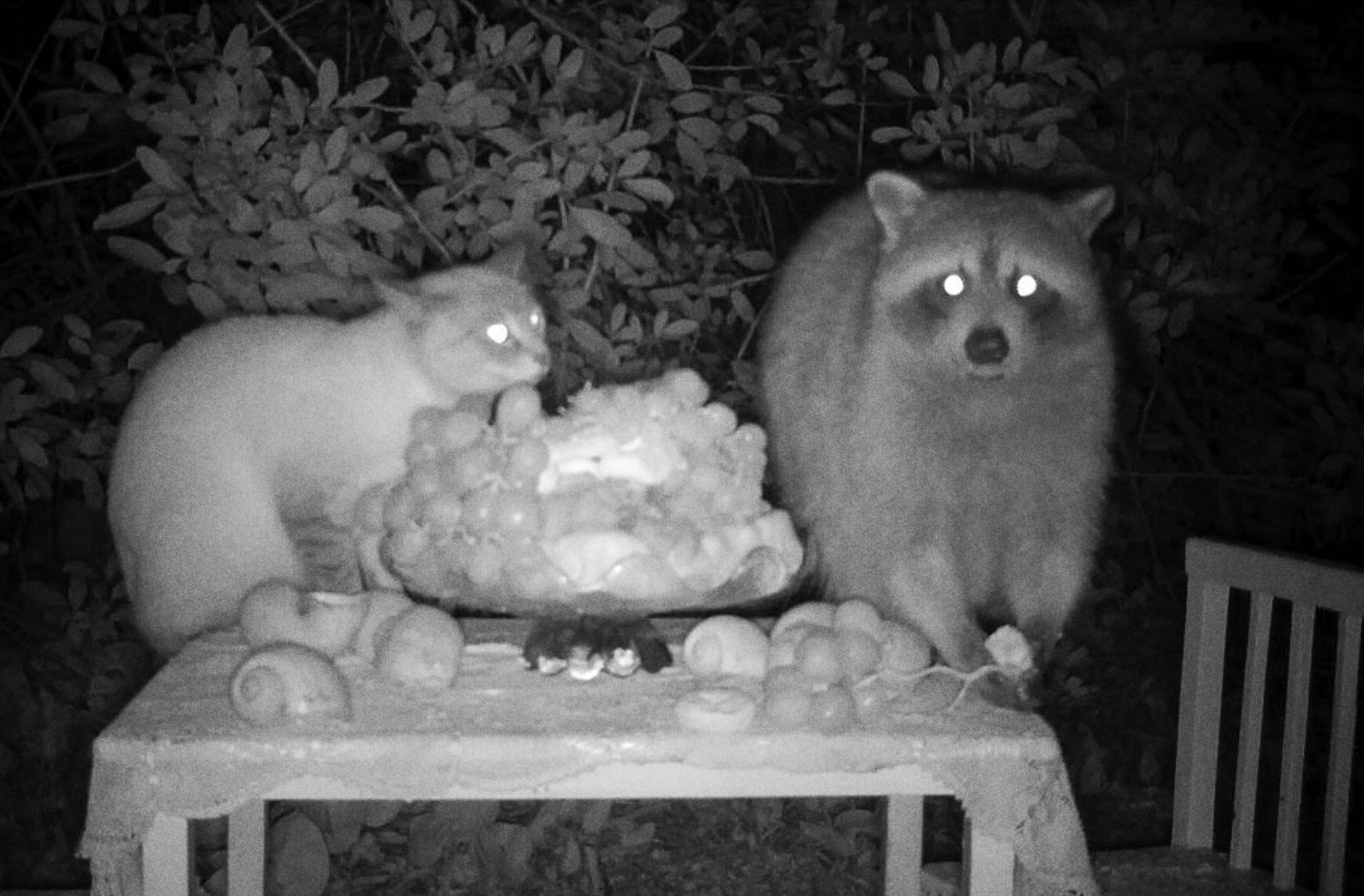 Dana Sherwood, Feral Cakes, 2017
Still from surveillance footage
Residing deep within the suburban sprawl of South Florida I began setting out fruits, vegetables, meats, cakes and other confectionery concoctions for the local animal inhabitants. The menus grew from a knowledge of the natural diet of animals such as raccoons, foxes, possums and other creatures I expected to find living along the borders of human habitation. Filming over the days, weeks and months I began to get to know the preferences and predilections of their régimes, and, usually these foods did not include green vegetables and apples, but donuts, hot dogs, pizza and lamb chops. A conversation started to emerge as I watched my videos each morning from the previous nights banquet and adjusted, tweaked and tested them. Below are a selection of video stills and photos of the banquets.
- Dana Sherwood
Link to video excerpt
:
Still from surveillance footage
Link to full project
:
Dana Sherwood, Feral Cakes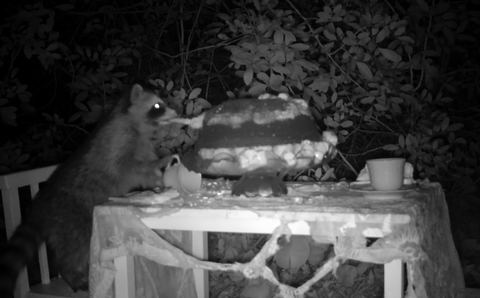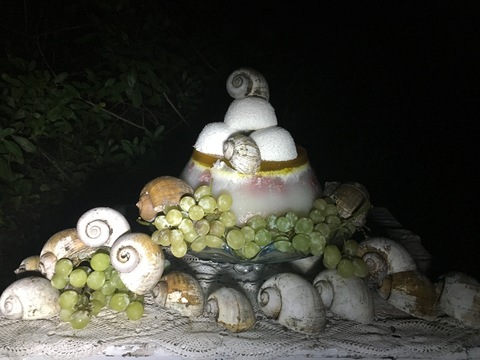 Center Notes

Chinese businesswoman Yang Feng Glan is escorted at the Kisutu Resident Magistrate's Court in Dar es Salaam, Tanzania.
NY POST
(February 19, 2019)
February 6
Mary Leakey, British paleoanthropologist, who discovered the first fossilised Proconsul skull, is born. The Proconsul is an extinct ape believed to be an ancestor of humans (1913)
February 8
An alleged spy pigeon escapes custody in
the Indian district of Sriganganagar. Thought to be a Pakistani intelligence messenger, the pigeon made it away from officials when a constable lifted its cage for an examination (2017)
February 12
*Serpent-handling practicing Pentecostal preacher,
Rev. Glen Summeford is convicted of the attempted murder of his wife by forcing her hand into a cage full of rattlesnakes (1992)

February 15
Kentucky Pentecostal
preacher and third generation snake-handler, Jamie Coots, dies from a rattlesnake bite during a service at his church, the Full Gospel Tabernacle in Jesus' Name in Middlesboro, KY (2014)
February 16
German zoologist, naturalist and artist Ernst Haekel born. Haekel discovered and named thousands of species
and crearted intricate illustrations of animal and marine life published in his
Kunstformen dur Natur
(1834)
February 17
American artist Kim Jones performs as his alter-ego Mudman in Rat Piece at California State University's Union Gallery burning four live rats to death (1976)
February 19
Tanzania sentences Yang Fenglan, aka "Ivory Queen", a Chinese businesswoman to 15 years in jail for one of the largest ivory-smuggling rings in Africa. Yang'sdealings amount to $2.5 million worth of tusks from some 400 elephants (2019)
February 20
Love Your Pet Day
The United States launches the first animals on record: fruit flies, 68 miles into space (1947)
February 28
The Balearic Islands' parliament grants the world's first legislation on personhood status for great apes (2007)
The Collaborative Center for Storm, Space & Seismic Research (BEAST)